Barcelona with great deals
We offer you a series of cultural, sporting and leisure services, tours and much more besides… with special deals to ensure you don't miss a single detail of your visit to Barcelona. And we've made it really easy: call +34 932 853 833 or email workation@barcelonaturisme.com and we'll give you personalised advice about these services.



Barcelona Card Workation
Buying the
Barcelona Card Workation
you will get lots of great deals, including free admission and discounts at museums, cultural and leisure attractions as well as on visits and tours.
26 museums and places of interest… Free!
27 museums with discounts. Soak up the culture!
10 visits and tours with discounts. Gain an in-depth insight into the city
15 leisure attractions, entertainments and other services with discounts. Have fun from time to time!
Buy the
Barcelona Card Workation here
.
Welcome to the library!
There are currently 40 public libraries spread throughout the city where you can find books, magazines, newspapers, music, movies, and participate in cultural activities for all ages. To use library services, such as borrowing books, computer access, Wi-Fi connection, or technology workshops, you must have a library card. To obtain it, all you need to do is present an original identification document. The card also offers discounts to organizations that promote cultural activities and services in the city.
Tel.
933 161 242
|
biblios@bcn.cat
|
ajuntament.barcelona/biblioteques
Shopping with discount
La Roca Village
La Roca Village offers you a unique shopping experience in more than 140 brands, in a safe open-air environment. Barcelona Workation benefits: eVIP Pass that includes additional 10% savings and a welcome drink. Also, discover its space for your meetings with exclusive advantages.
vstellfeld@valueretail.com
Advantage:
eVip Pass
Sports Clubs
Real Club de Polo de Barcelona
Av. Dr. Marañón, 19-31, 08028 Barcelona
Tel.
934 480 400
mvargila@rcpolo.com
www.rcpolo.com
The Real Club de Polo de Barcelona is a private entity with a great tradition: 40 tennis courts, 20 paddle tennis courts, 3 hockey fields, a polo field, extensive equestrian facilities, swimming pools, gyms, spa and restaurant areas. All this located in 20 landscaped hectares in the heart of the city.
Advantage: Passing partner RCPB: :
temporary stay in Catalonia for a maximum period of 5 years.
Variable entrance fee depending on the period of stay and monthly fee of 122.9 € / month.
Royal Fitness
jelias@rcpolo.com
rcpolo.com
Royal Fitness, located in the gardens of the Hotel Rey Juan Carlos I, has gyms, indoor and outdoor swimming pools, spa and beauty area. All this in one of the most privileged areas of Barcelona.
Advantage: Access to Royal Fitness
(swimming pool, gyms, fitness, spa, etc ...) both advantageous quotes with no entry fee:
Monthly subscription fee: € 101
Weekly subscription fee: € 35
Daily subscription fee: € 22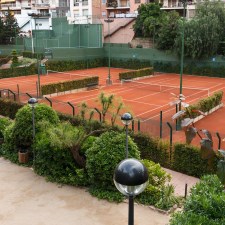 Club Tennis Barcino
Plaça Narcisa Freixas, 2-3, 08022 Barcelona
Tel.
934 170 805
ctbarcino@ctbarcino.cat
ctbarcino.cat
22,000 m2 at your disposal to practice Tennis, Paddle Tennis, Table Tennis, Swimming, Gym, Group Fitness Classes... or simply relax and enjoy the hydrothermal area, the restaurant or the magnificient terrace.
Advantage:
Being able to subscribe the club between 3 and 6 months with a 35.5% discount on the current three-month roamer fee, final monthly fee of 180.25 €
Additional discount of 3% for advanced 16th-monthly payment, with a one-time fee of 1,049.06
Enjoy the same services and facilities as full members, except voting rights and attendance at assemblies.
Barcelona Golf Pass
Tel.
938 942 516
info@barcelonagolfdestination.com
barcelonagolfdestination.com/golf-pass/
Enjoy the best Golf Clubs in Barcelona by purchasing the BCN Golf Pass 3 or 5 courses.
Tee time confirmation guaranteed in less than 48 hours.
Flat rate to play the best courses in Barcelona.
Advantage:
3 Courses € 207 / Player – 5 Courses € 325 / Player
Club Natació Barcelona
Pg. Joan de Borbó, 93, 08039 Barcelona
Tel.
932 214 600
-
610 086 485
rarmengol@cnb.cat
www.cnb.cat
The Club Natació Barcelona, founded in 1907, with more than 34,000m2 of facilities, is the largest sporting entity on the sea coast of Barcelona being a historical, sporting and social reference.
Advantage:
Free registration.
Low season (October 1st to March 31st):
From 33 years old: 100.45 euros/mmonth
High season (April 1st to September 30th):
From 33 years old: 145.65 euros/month
For more information on age slot fees or family fees:
rarmengol@cnb.cat
.
You may be also interested