A zero-cost cultural afternoon
On Sunday in Barcelona most ticket-office staff seem to have part of the day off, so you won't have to buy tickets for most main museums. The only thing to remember is this rule only applies after 3pm or all day on the first Sunday in the month. That's right! You can enjoy the top museums without paying a penny… surely one of the best deals in town.
To make it easier for you to choose, below we'll tell you about the participating museums and the best times to visit for free.
Museu Nacional d'Art de Catalunya. A must-see museum… and not just because it boasts spectacular views of the city and Plaça d'Espanya from its vantage point on Montjuïc , but because it showcases the world's finest collection of and works by some of the leading artists from Catalonia's home-grown art nouveau movement, modernisme, such as Gaudí and Casas, Gothic art, great European Renaissance and baroque painters, such as Titian and Velázquez, and a photography collection that completes the museum's holdings. The museum also stages temporary exhibitions and is the perfect place to lose yourself in history on a leisurely Sunday.
When to go: Admission is free on the first Sunday of the month and on Saturday after 3pm. The museum is also free all day on 11th and 24th September and 18th May, World Museum Day.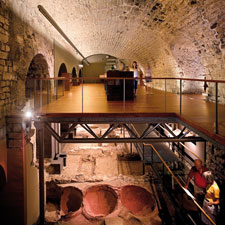 Museu d'Història de Barcelona. You mustn't miss this museum if you want to understand and experience Barcelona from its origins to the present day. MUHBA preserves, studies, documents, disseminates and showcases the city's historic heritage and its main museum is housed in the Casa Padellàs, one of the buildings that make up the Monumental Ensemble of the Plaça del Rei, in the Gothic Quarter. This means that the area around the museum is also full of history.
When to go: Admission is free every Sunday after 3pm and all day on the first Sunday in the month. The museum is also free all day on the Feast of Santa Eulàlia (12th February), 24th September and 18th May.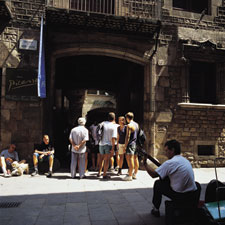 Museu Picasso. This is the city's most visited museum and one of its oldest. It was founded at the behest of the artist and his friend and secretary Jaume Sabartés, who donated his collection. The museum has on display many portraits of the friends and personalities who were part of Picasso's circle, as well as engravings, lithographs and ceramics. The most outstanding exhibit is the complete series of 58 canvasses based on Las Meninas by Velázquez, which Picasso donated after Sabartés' death. The museum is located in the centre of the Born district, in five Gothic palazzos that make up one of the finest examples of civil architecture from the Gothic period. Another work of art you have to take your time to look at.
When to go: We recommend you get there early because there's nearly always a queue to get in. Admission is free on Sunday from 3pm to 7pm and all day on the first Sunday in the month, 12th February, 18th May and 24th September.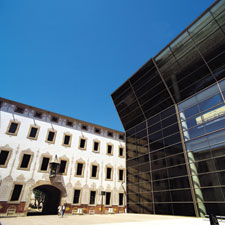 Centre de Cultura Contemporània de Barcelona (CCCB). You're bound to spot the CCCB because there's usually a hip and trendy crowd milling around nearby, along with skateboarders and bars with cool terraces. Situated in the centre of Barcelona, in the Raval district, this cultural attraction opened in 1994 on premises formerly occupied by the poorhouse, the Casa de la Caritat which was built in 1802 on the site of a medieval monastery. The façade and part of the original courtyard have been preserved; the rest was rebuilt using glass and steel. The CCCB organizes and produces exhibitions, debates, festivals and concerts, programmes film cycles, courses and lectures, and encourages creation using new technologies and languages. An absolute must if you want to discover and share trends and creativity in their purest state.
When to go: Admission is free every Sunday from 3pm to 8pm, on 12th February, 18th May, Museum Night, and 24th September.
Barcelona's museums are everywhere, just like its beauty. So, if you're looking for something different like the Museu de la Música, NAT (Museu de Ciències Naturals de Barcelona), the Museu de Disseny de Barcelona and many more … and find how many you can visit without paying a cent.
Museu Nacional d'Art de Catalunya. Address: Parc de Montjuïc. How to get there: Plaça Espanya (L1, L3).
Museu d'Història de Barcelona. Address: Plaça del Rei. How to get there: Jaume I (L4).
Museu Picasso. Address: carrer Montcada, 15-23. How to get there: Jaume I (L4).
Centre de Cultura Contemporània de Barcelona (CCCB). Address: carrer Montalegre, 5. How to get there: Catalunya (L1, L3), Universitat (L1, L2)
You may be also interested